December 29, 2022
Favorite Albums of 2022
My favorite records of 2022 below, with a playlist at the end.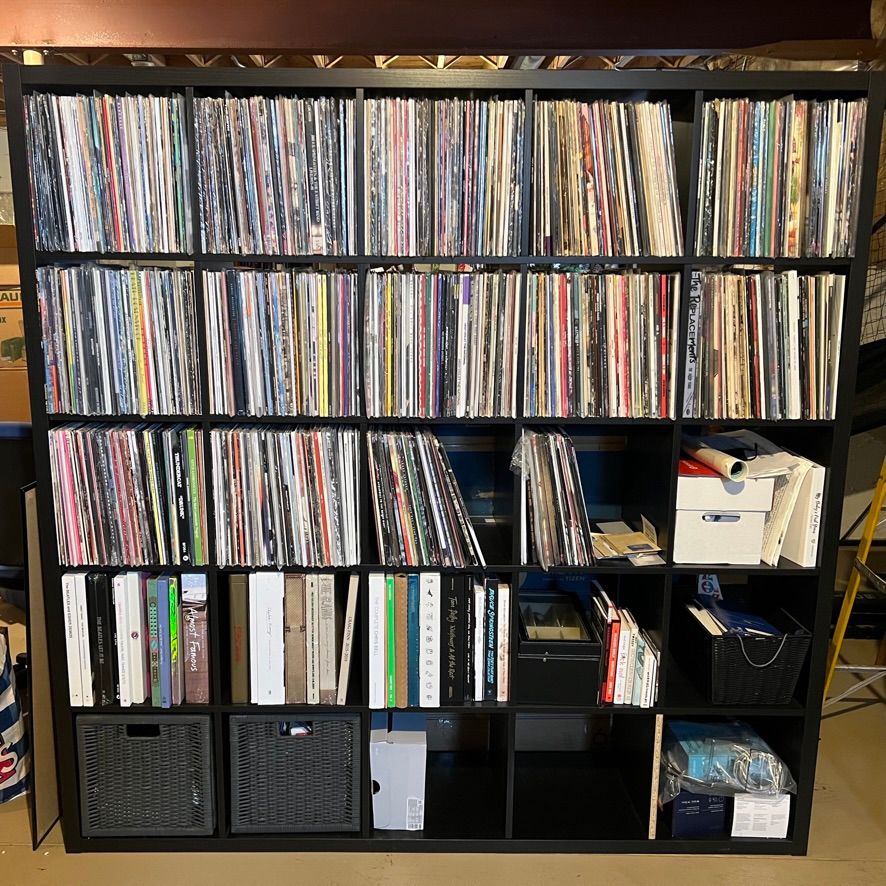 Gang of Youths - Angel in Realtime
In March, I flew to London by myself. It was my first time on an airplane since March 2020. We made it home literal days before the US started restricting travel because of the quickly emerging COVID pandemic. Less than three months later, I became a father three months earlier than expected.
My entire world changed twice in a very rapid amount of time. During his time in the NICU, I listened a lot to Gang of Youths "The Heart is a Muscle" as an anthem of sorts - (the heart/the heart/the heart/is a muscle/and I'm gonna make it strong!") seemed appropriate for a premature baby.
Although I was overjoyed at the birth of my son and his very speedy recovery and continual good health, I became overwhelmed with the trauma of the situation for over a year. It was complicated by an ever changing COVID situation and having an immunocompromised baby. I felt like I didn't know where I fit anymore in the world and none the vestiges of my life prior felt like they fit me anymore. I needed to try to break the spell. By springtime, with our son almost two, my wife and I decided we should try to venture out with our trip to London. I'd go first, with Ali joining me the next day.
Flying London to see friends I had not seen in two years, being anywhere within a short distance for the first time without my son weighed on me heavily. On my flight over, I became enamored with their newly released Angel in Realtime. There was something exquisitely hopeful, heartbreaking, elegiac and rousing about it in one shot. It's David Le'aupepe's examination of the life of his father, one where he explores some pretty staggering revelations about his life, all filtered through the lens of him passing. The record is sweeping, messy, broad and beautiful - huge guitars, heavenly vocals from the Auckland Gospel Choir and a piano ballad titled "Brothers" that will make your jaw drop.
At the end of the record comes the one-two punch of "Hand of God" and "Goal of Century", a hymn coupled with an astonishing, rousing finale, with truly heroic strings and a beautiful piano outdo. The breadth of it gives me immense peace. I listen to both songs any time a plane I'm on is landing. The first time I did that was that trip.
When I got to London, I met with my friend Mozy - Gang of Youths was actually playing an in-store at Rough Trade the day I landed. We stood at the back of the store as the band played, and I felt my voice catch in the back of my throat. It was the first time I'd heard live music in 723 days. So much had changed, but everything I remembered about how sound moved me came rushing back. Songs like "You in Everything" and "In The Wake of Your Leave" communicated the feeling of what it's like to love someone so much but get that sinking feeling of it slipping through your fingers. That happened to David, I  am unbelievably grateful it did not happen to me.
After the set I was pretty emotional, but invigorated. The band was doing a meet and greet. I went up to the members and quickly told them the story about my son and how early he was and how important one of their songs was. David gave me a gigantic hug and looked me in the eyes and said "You're a good dad, man."  I'll never forget it for the rest of my days.
Angel in Realtime is the only choice for my favorite record of this year. It reconnected me to sound, to soul, and gave voice to my feelings when I thought mine was lost.

2. Big Thief - Dragon New Warm Mountain I Believe In You
Many great records came out this year, but none were more adventurous than the double album Dragon New Warm Mountain I Believe In You by Big Thief. The 20-track collection feels like a little bit of everything from a group that sounds less like a group of four musicians in a room, than a singular organism shifting in sequence with each other. The songs here are kaleidoscopic in their sound - quiet acoustic ballads, celestial folk, bubbling rock squalls, and of course, a song about a potato. There's a sense of wonder and playfulness found on this record that doesn't exist on previous Big Thief LP's. In turn, it makes it some of their most approachable, exhilarating and inviting work - the sound of one body and one circulatory system working to keep the blood pumping.
3.  MJ Lenderman - Boat Songs
It shouldn't sound so easy to write songs like this. Boat Songs is twangy garage rock that comes off as effortless - take "Hangover Game" where Lenderman speculates that Michael Jordan's legendary "Flu Game" was not caused from illness or food poisoning but, well, you get it. There's also songs about buying boats (of course), pro wrestling and Dan Marino. It glides by you so quickly and then you just want to replay it again. It's so hooky, honest and at times, hilarious that you just keep replaying it, always wanting more, exposing that hidden detail in the fuzz that you missed the last time around.
4. Alvvays - Blue Rev
The first album from the Toronto-based group in five years is a straight-up masterpiece, a perfect amalgamation of power-pop fuzed with shoegaze guitars and singer/guitarist Molly Rankin's hazy vocals.
Blue Rev somehow manages to feel both huge and intimate in tandem - this is a record to be played both loud on a car stereo with the windows down, or on a cold winter day snuggled up with headphones. It's an environment within its 39 minute runtime - sometimes stormy, other times sunny or in its most quiet moments, completely serene. No matter the weather, it glistens.
5. Black Country, New Road - Ants From Up There
This peculiar sophomore release from the Cambridgeshire, UK group starts with a deluge of horns before breaking into a series of songs that can only be described as epics in minutes. Much of the record's release cycle made buzz came on the heels of the departure of frontperson Issac Wood, and if it's the final chapter in this era of the band, then what an exhilarating way to go out. It's an indie-rock record that subverts every expectation, and takes such severe left turns that every song feels like a mystery box waiting to be opened. They're so in the groove here, that even without their co-founder, they'll be more than capable of creating more music that truly sounds like nothing else before it.
6. Craig Finn - A Legacy of Rentals
Craig Finn's continual evolution as a storyteller is never more evident here. On ALOR, he and major collaborator Josh Kaufman paint with a new sonic palette than their previous three collaborations. The results will stop you in your tracks.
7. Harry Styles - Harry's House
Our family is one of divergent music tastes, but Harry's House is one roof we all live under comfortably. Also, seeing him live in September was one of the year's live music highlights Ali and I listened to this record on so many car rides this summer, as Remy requested "Harry" from the backseat. Whether it was our British friend or the puppet he likes from YouTube, we'll never know - although he never complained when "As It Was" started to play.
8. Spielbergs - Vestli
Spielbergs are the best band that you might not have heard of. It's pretty simple: They're from Norway. They make 3-4 minute punk songs that feel like mini movies - ripping solos, whoa-oh vocals and choruses that will stick to you like jolly ranchers embedding themselves to the top of your teeth. The trio imbues these songs with such verve and high energy that when the band takes a breather with passages of cool synths or piano and strings before shifting back into exhilarating anthems, you can't help but feel like they're moving toward a level of world building we've yet to see in  punk.
9. Goose - Dripfield
Goose are quickly becoming the standard bearer in this age of jam bands, and their recent tour with Trey Anastasio and sold out shows across the country are perfect evidence of this. Besides their obvious chops, the band has been known to cover a vast number of influences (think The National, OutKast and Nina Simone) but on Dripfield, it's a surprisingly tight, tuneful and slick collection of songs that acts as a great entry point for a band that's certainly more known for their live shows. It's a collection of songs featuring excellent musicianship that is impressive but not egregious, a record that makes a statement but feels easy, breezy and ultimately joyful.
10. Gladie - Don't Know What You're In Until You're Out
Gladie's sophomore LP starts out with about a minute of acoustic guitar that bleeds into hazy feedback before crashing into one of the year's best, greatest songs, "Born Yesterday".  Frontperson Augusta Koch states: "It takes me me more time/I'm a little unsteady/I was born yesterday/I forgot I could be somebody". Words from someone trying to find their place with clear eyes.
A few lines later: "Now the floodgates are open/The way I feel could fill the ocean." She repeats it four times. I know that feeling. Then: "…when the wave comes crashing in, it said I'm not a fixed thing/I'm changeable".
It's an anthem for anyone who has felt unmoored, who has lost their sense of self, unsure of their identity or how to navigate a new world. Maybe that's in more ways than one. Don't Know What You're In Until You're Out is full of songs with this level of relatable intensity. It's hard to capture that feeling so perfectly, but they've done it.
11. Hurray For the Riff Raff - Life on Earth
12. The Beths - Expert in a Dying Field
13. Soul Glo - Diaspora Problems
14. Wednesday - Mowing the Leaves Instead of Piling 'Em Up
15. Caroline - Caroline
16. Yeah Yeah Yeahs - Cool It Down
17. Wet Leg- Wet Leg
18. Taylor Swift - Midnights
19. Titus Andronicus - The Will To Live
20. The 1975 - Being Funny In A Foreign Language