July 24, 2018
Lucero Address Change on the Magnificent "Among The Ghosts"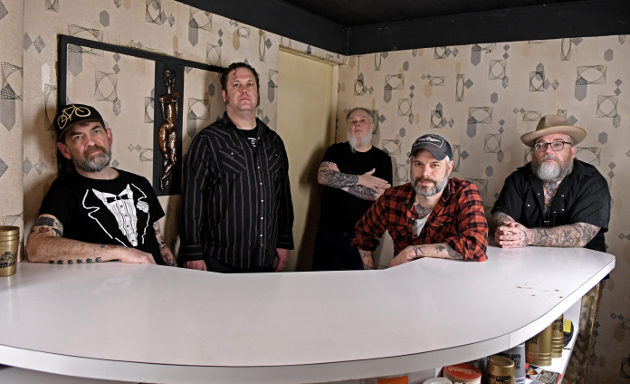 Lucero – Among the Ghosts

2018 marks twenty years together for the Memphis-based Lucero, a group no stranger to making classic record after classic record. That's why it's not surprising that their ninth, Among the Ghosts might just be their best. On the whole, the album sounds like Ben Nichols coming to terms with a new phase in life – both as a husband and a father, and the double edge sword that can be.
It's an album that shows the true breadth of their talents – the album's title track starts on a mediation about a lot of things – Nichols talks about leaving his family behind on the road – specifically his young daughter – and the toll it takes. "The first words she said to me were 'goodbye'", he sings. It almost breaks your heart to hear the resignation in his voice.
Nichols sounds a little hard on himself about how life transforming has impacted those around him. That's apparent on "Everything Has Changed," charged by Rick Steff's inimitable keys. "Looking like darker days/ain't nobody else to blame/somewhere down in hell they call my name." It's a classic Lucero slow-burner, but seems to hold so much more weight in the light of the birth of his daughter.
One of the album's best tracks, "For My Dearest Wife" was inspired by Civil War soldiers writing back to their families, however, it's really feels like a storytelling device about Nichols missing his wife. The band offers an interpolation of "Battle Hymn of the Republic" in the song, backed by Roy Berry's marching drums. It's a beautiful piece to talk about something personal and relatable with a historical context in a way that many musicians could not execute as well as this, or even bother with attempting.
Has this band ever written a song as tender as "Loving"? That's debatable, "It might not be good enough for them/but I just want to be good enough for you" may be one of the most realistic and honest lines in a love song in recent memory. It's a song Nicohols originally wrote for a film of the same name about Richard and Mildred Loving, whose interracial marriage in the late 50's was illegal where they lived, and their challenging of the law resulted in a Supreme Court decision ruling the law unconstitutional. While the song is referencing the film, the feeling is universal.
Among the Ghosts shows a band still growing after two decades together. For a band to be making music this good, an album that feels so consequential and full this late in their career is incredible. Yes, the stakes are higher, but Lucero is there to meet them.
Among the Ghosts is out August 3 on Thirty Tigers.