April 5, 2018
Hear/Here: New Hop Along, Young Fathers, Kacey Musgraves and Wye Oak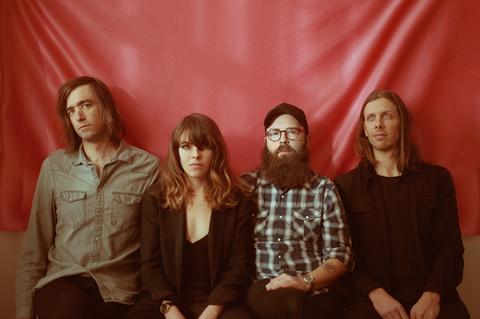 Hop Along – Bark Off Your Head, Dog
Hop Along have been on a tear since the release of their 2012 debut, Get Disowned and came to proper prominence with 2015's Painted Shut, a showcase of a young band coming into their own, and placing the extraordinary voice of singer/guitarist Frances Quinlan center stage. It's a low-key classic in it's own right, so the release of Bark Off Your Head, Dog comes with some high expectations. Happily, it doesn't disappoint.
The nine-song collection adds some new hues to Hop Along's rapidly kaleidoscoping sound – the rawboned riffs of the first single "How Simple," the acoustic guitar and strings of the gorgeous "How You Got Your Limp" and the funky-mathy rhythms of "The Fox in Motion". Then there's some littler experiments: "What the Writer Meant" starts with brushed drums that break into a gorgeously power-pop chorus while "Look of Love" fucks with some serious psychadelic-era Beatles harmonies. Bark Off Your Head, Dog is album that pushes Hop Along forward, showing band striving to find what's possible in their sound, opposed to making something that sounds like them. It makes sense – that's never quite been their DNA. Hop Along sound a bit restless here, but that's why it works. It's very clear that Bark Off Your Head, Dog is just the tip of the iceberg.
Young Fathers – Cocoa Sugar
Every once and a while there will be an album that pretty much levels the musical plane, one that becomes an earworm in the most serious of ways, rendering everything else kind of secondary. For me, right now, that is "Cocoa Sugar" by Young Fathers.
It's hard to classify exactly what genre the Edinburgh, Scotland-based group are, because they encompass so many different ones at once. It's a little hip-hop, it's a little indie rock, and then there's some weird touches of R&B. They won the Mercury Prize in 2014 for their debut album Dead and were featured prominently on last year's Trainspotting 2 soundtrack. "Cocoa Sugar" is a densely layered collection melding Gospel choirs, skitter-stop raps and Radiohead-inspired sound beds.
I keep coming back to it time and time again because I'm always hearing something a little different each time. There's not really any sort of comparison I can make for it from anywhere. Listen to "In My View" for some burnout balladry, the buzzing aria of "Lord" or the narcotic daze of "Wow". It all changes from song to song and it couldn't come from anywhere else. Don't sit on this record or this group. It's an excellent record which centers them on the cusp of greatness. They're building a hell of a case for it.

Kacey Musgraves – Golden Hour
Let's get it out of the way: Believe the hype. All of Kacey Musgraves's records are the real deal – slices of contemporary country that don't sound like shit and hint at something greater and more progressive. Hint no more. Golden Hour is Musgraves best and most fully realized record, one that transcends country, or any genre really, with the focus on crystalline songwriting, gorgeous arrangements and something entirely different with the startling disco bump of "High Horse". It's the defining career achievement of which there are already many moments that have had that mantle previously. Just don't waste any more time not listening to it.


Wye Oak – The Louder I Call, the Faster It Runs
Wye Oak have never made the same record twice, and on The Louder I Call, the Faster It Runs, it's not about to change. Jenn Wasner and Andy Stack grow by leaps and bounds on each release, and this, their first proper studio album since 2014's Shriek has them taking the synth heavy sounds of that record and Wasner's excellent Flock of Dimes side project and bridging that with the hypnotic drum and guitars found on 2011's classic Civilian in a way that sounds panoramic. "Lifer" sounds like a conservative synth track before it blows wide open into Wasner's gargantuan guitar solo, while "Symmetry" sounds like a track from an 80's action flick doused in nightmare fuel and lit ablaze. Wye Oak always make records worth checking out. Dig right in and stay for a while. This one is damn near untouchable.