November 6, 2016
The Chicago Cubs Won the World Series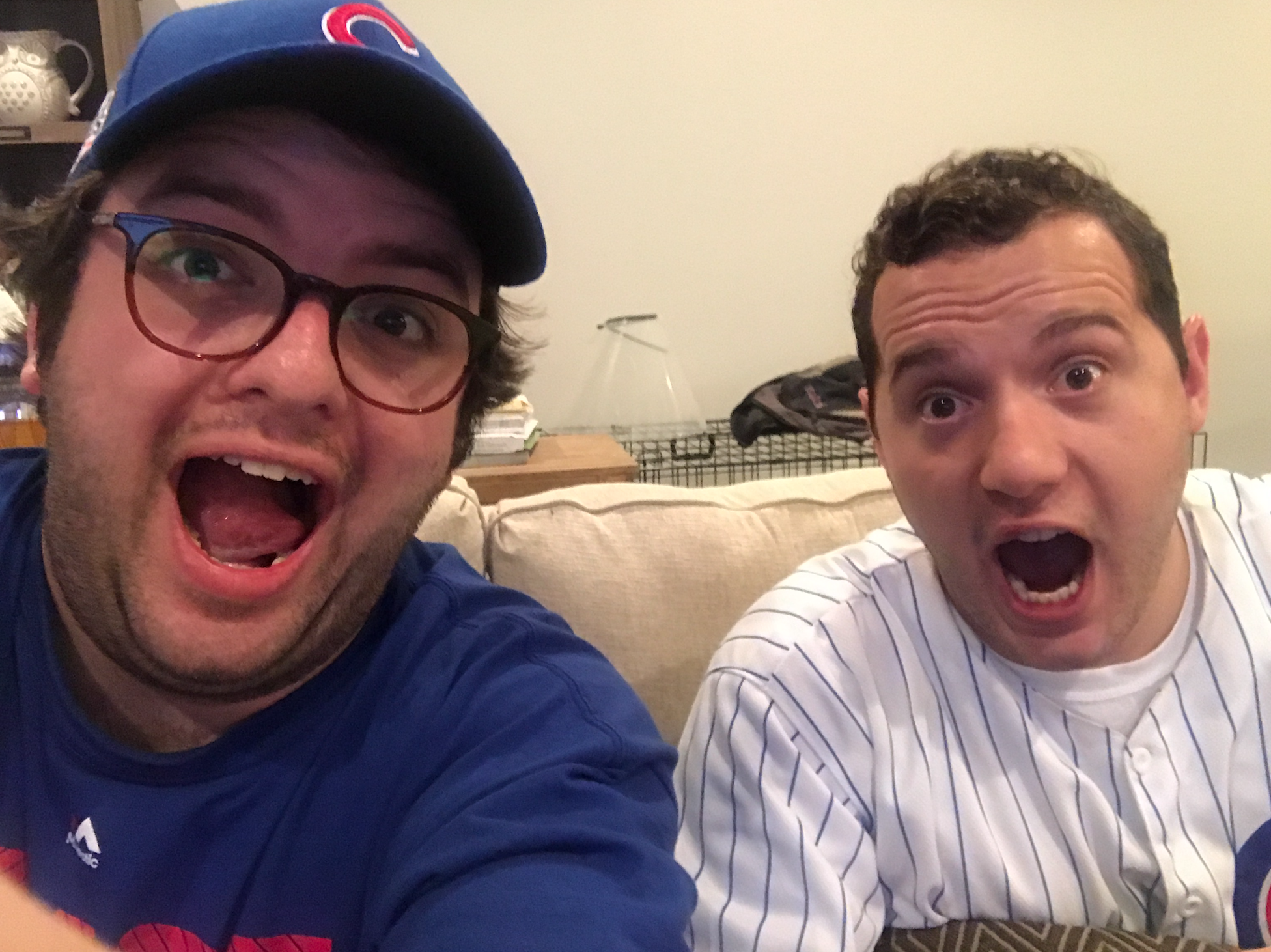 The Chicago Cubs won the World Series.
I have been repeating this to myself since Wednesday just to make sure it's real. It can't possibly be. But it is. They went to the World Series, were down three games to one, and won. This team won a championship for the first time in 108 years. There are so many ways and historical benchmarks to point to in just how long that is. There is no way to describe what it's like to root for a team that literally never won, has never gone to the World Series in your lifetime (or in the lifetime of anyone under 71), and do it. I remember 1998. I remember 2003. I remember 2007 and 2008. Last year, too. This year had to be more of the same, right?
No. It wasn't.
Sure, they were competing some years, frustratingly, sometimes epically bowing out when they really needed to win. More than the Boston wins, more than the White Sox win, the Cubs World Series win challenges what you know about, well, anything. How do you even make sense of something that just feels purely wonderful when you're predisposed to expect the worst?
Neither of my parents are sports fans. I came to baseball when I was seventeen, around the time of the Cubs 2003 playoff run. It was thrilling – six outs from the World Series before the collapse. But that didn't break my heart. Game 7 did. I remember being hopeful the next morning after Game 6 and Steve Rizzo painfully contorting his face and saying "no, you don't understand, it's over." I didn't want to believe it. He was right. They lost 9-6.
When I got my first apartment in college, I lived a mile from Wrigley Field. I could see it out my window. My school offered discount bleacher tickets through the newspaper, and I'd go more than a few times and soak up the atmosphere – this was the early Lou Pinella team. Ted Lilly was my guy, basically on the premise that he inexplicably signed on with the Cubs after Toronto offered him an identical deal to stay there. He declined, citing a "change of scenery", but that's just because he got in a fight with the Blue Jays manager. That's beside the point. His actual full name is Theodore Roosevelt Lilly III, which is just ridiculous. He's still the only individual player I own a shirt for. Apparently he's a Special Assistant to the President/General Manager so I think that means he probably gets a ring. Amazing.
That was almost the fun of being a fan. Through the playoff run, Jordan, who has loved the Cubs since I have known him, just texted each other names of Cubs of years past that we knew better for their funny names or terrible play. How would the team pull defeat from the jaws of victory this time? During the rollercoaster of Game 7, a masterpiece if there ever was one, maybe the greatest game ever – no, fuck it – DEFINITELY the greatest game ever, I felt stricken after the two run homer to tie.
But then they bounced back in the tenth after the rain delay. I jumped into Jordan's arms not unlike Jason Varitek did into Jonathan Papelbon's arms when the Red Sox won in 2007. We looked at each other in disbelief. This World Series victory is for everyone who ever cared about the team. Die hard, bandwagon or lapsed. It's a feel-good story by a team that was so fun to watch. With the Bryant to Rizzo final out, every disappointment we had about the Cubs and what we thought knew about them evaporated, leaving nothing but unbridled joy.
There are so many more words and things I could say about this. Baseball is a sport that you can access on so many different levels. If you want to obsess about the history like me, that's all available. If you like stats, you can do that. If you don't get any of it, watching players hit baseballs into the stands or watching a guy masterfully throw pitches that dudes whiff on is your thing, go nuts. You don't have to be totally invested if you don't want to. The Cubs have always been a great example of that.
But now, somehow, improbably, we are on the other side of that. Of course, this team was built to accomplish this specific goal, but it doesn't mean anything unless there's the follow through. The Cubs are champions, and for future generations, it won't carry that same desperation and crushing feeling of failure. Maybe they'll win more championships in the next few years, and fans will complain about their dominance. Maybe they never win another and the 2016 Cubs will turn into this generation's version of the 1985 Bears – one magical team surrounded with a few years of really good teams.
Whatever happens, there will always be 2016. A year that's just wrought with so much horrible shit and an election that never seems like it's going to end also contains a World Series between two teams that never won and they captivated us until the final moment (and then some). They really didn't win that game as much as they didn't lose it. The margin of error in the 10th was either get the out, or have the other guys swing a bat into the record books. It's amazing as something as simple as a game can make a person so happy.
Walking around Chicago and seeing all of the hats and shirts and jerseys has been remarkable. We're all sharing in this one moment together. Even Steve Rizzo, who I haven't seen in a decade, has checked in: "This is unbelievable." It's uniting generations, giving us reasons to celebrate those who didn't quite make it to see this moment, and turning what we know to be real and true about something as escapist as a baseball team on its head. Enjoy the moment as long as you can and cut out the outside noise. Even if the Cubs win the World Series again, it will never be quite the same as this. It couldn't be. It's a singular moment that comes once in a generation. I am so grateful I lived to see it and be part of it.